With its mythical coral reef, magnificent beaches, lush jungle, epic surf breaks, incredible wildlife and awesome cities, the East Coast of Australia's got it all. It's a classic road trip destination. The question is -what are THE things not to miss on your itinerary?
When you talk about classic road trip, amongst others such as California and Canada stands the very classic East Coast of Australia. This destination has got so much to offer, it's often hard to decide on an itinerary -if you need help, check out our ultimate guide to a road trip on Australia's East Coast. From the Great Barrier Reef to Melbourne, the road is punctuated by all kind of discoveries, from a rich and fascinating wildlife to beautiful cities where you'd just want to settle down and stay forever. It took us two wonderful weeks to explore the coast -if only we had more time, there's still sooo much we haven't seen!-, and much less to fall in love with Australia.
If you plan to go on a road trip on Australia's East Coast, here are some of the things you don't want to miss on the road... Ready? Time to hit the road!
10 things to do on Australia's East Coast
There's probably a hundred. But let's stick with the classics. These experiences that made our trip on the East Coast sooo fantastic. Starting with...
#1. let yourself be dazzled by the magnificent Great Barrier Reef
Situated up the coast in North Queensland, Cairns is renowned for its proximity to the Great Barrier Reef, paradise on Earth for divers. There are countless ways to explore the fantastic underwater world hidden below these turquoise waters, from snorkeling to glass-bottom boats, diving or even sea-walking. Choose your option, and prepare yourself for an experience you won't forget any time soon.
#2. Hug a koala bear
I know, I know, I know, it does sound cheesy and looks like a typical tourist attraction. When we got to Lone Pine Koala Sanctuary, I wasn't very keen on paying an extra $20 to hug a koala. But my friends decided to go for it, and I didn't want to be a killjoy, so I just followed the flow. Believe it or not, once I had this tiny teddy bear in my arms, I couldn't let him go. Those fuzzy gray marsupials are just adorable, when they cling to you. I dare you to resist!
Where : Lone Pine Koala Sanctuary, 708 Jesmond Rd, Fig Tree Pocket, QLD –roughly 12 kms for Brisbane
#3. hit the waves in Byron Bay -or you know... just watch the surfers
Byron Bay has this awesome chilled vibe proper to Australia. Either you're a surfer or not, you'll love this laid-back little town and its cool atmosphere. The beaches are wide and beautiful, the surf breaks epic, and the view from Cape Byron particularly stunning. It's a place where you want to slow down, maybe stay a couple of days, relax and soak up the serenity. If you don't surf but need some action, you can also rent a kayak, snorkel, dive or even rent a bike to explore the surroundings.
Where : Byron Bay, 160kms south of Brisbane
#4. Go wild wild wild on the australian rainforest
Who said Australia was only deserts, massive beaches and red sand? The country hides some of the most gorgeous lush rainforest awaiting to be explored. Adventurer or not, you'll find a way to enjoy it -you can either go on a trekking adventure, or treat yourself with a luxurious hotel hidden in the trees.
Where : Australia's East Coast is covered with National Parks –there are plenty of options!
#5. Get lost in Anna Bay's sand dunes
It's just sand. Aaall around you. You walk, walk and walk, and that's all you can see. You'll lose all sense of perspective. Where does it end? It's hot, magnificent and enormous. It makes you feel so small. It has something magical.
Where : Anna Bay, 200kms north of Sydney
#7. Trek (or ride) in the great Blue Mountains
We heard about the Blue Mountains long before getting to Australia. The beauty and the immensity of the site made us dream, and was one of the reasons why we chose this destination. It was even better in real than in my dreams. The mountains are so marvelous, imposing, breathtaking. The scenery fantastic. There is so much to explore, you could trek for days! There are many other activities to do to enjoy the site, from fishing to camping, mountain biking, climbing, horse riding... It's a true heaven for outdoors lovers.
Where : Blue Mountains, 60kms north of Sydney
#6. Visit Sydney Opera House and fall under the charm of the city
On photo, Sydney Opera House looks like a true piece of art. In reality, it's even more impressive. Majestic. It dominates Sydney's waterfront, opposite the Harbor Bridge. There are different ways to visit the Opera House, from the classic Sydney Opera House Tour, the VIP Backstages Tour, to the Tour combined with a tasting plate. While you're in Sydney, stroll around and take the time to get lost in the city –it's the best way to get surprised! From trendy concept stores, cafes in every corners, rooftops, art galleries, immense parks and scenic views, you might not resist to its beauty.
Where : Sydney Opera House, Bennelong Point, Sydney
#8. Enjoy the coolest happy hour... in Bondi Beach
How cool is that: to end your day with a cool glass of wine -or a cocktail, or, you know, both- in Sydney's famous afterwork spot. Only a few minutes from the Sydney, Bondi Beach is a whole different world from the city center, fringed with surf shops, street art everywhere, skateparks, tattoo shops... Along the beach, surfers, runners and dog walkers enjoy the sunset, while others drink on the terraces -that's us! Bondi Beach is a stop you can't miss on your East Coast road trip. Non-negotiable.
Where : Bondi Beach, 9.5kms from Sydney City Center (20 minutes bus ride)
#9. Drive on the legendary Great Ocean Road
Do I even need to mention it? With its fabulous hiking trails along the coast, vertiginous cliffs and spectacular beaches, the Great Ocean Road is one of the highlights of a trip on the Australian East Coast. Even under stormy weather, we loved it. I just wish we had more time to explore the region deeper. The coast is fascinating!
Where : It spans 400kms from Torquay to Nelson, on the South Coast.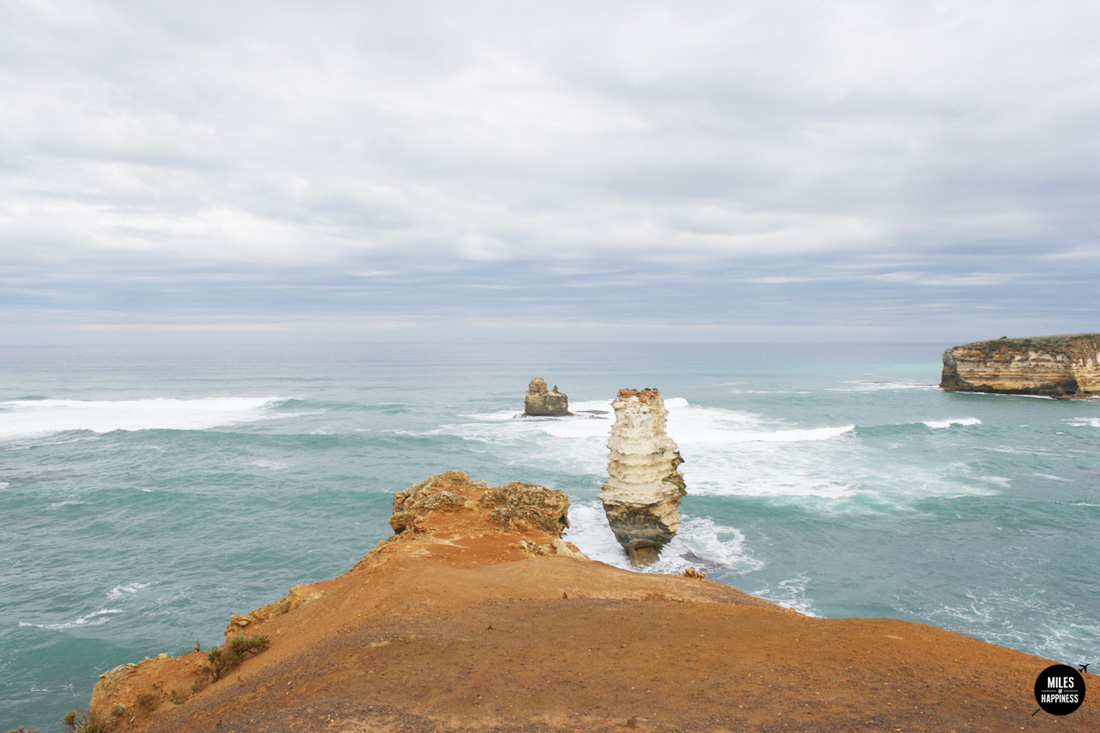 #10. Explore Melbourne's cool coffee scene
I didn't expect Australian people to be so crazy about cafes until I got there. If Sydney was gifted with some really nice cafes, Melbourne doesn't have any reason to be jealous. The city abounds with coffee shops, from cafes-concept stores to cafes-art galleries and more. Don't rush it, as Melbourne is not a city you enjoy for its touristic sights, but for its lifestyle.
Where : Melbourne, 880kms south of Sydney